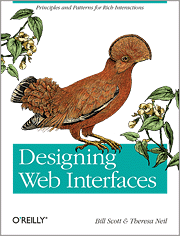 I am happy to announce that the two companion sites to my book are now live.
designingwebinterfaces.com
is the companion book site as well as the book's
blog site
. Look for
some exciting articles
on the blog in the next few weeks.
The
companion Flickr site
should also be
helpful
as it provides all of the
book's figures
under a generous
Creative Commons license
.